"Alice crouched down among the trees as well as she could, for her neck kept getting entangled among the branches, and every now and then she had to stop and untwist it. After a while she remembered that she still held the pieces of mushroom in her hands, and she set to work very carefully, nibbling first at one and then at the other, and growing sometimes taller and sometimes shorter, until she had succeeded in bringing herself down to her usual height.
It was so long since she had been anything near the right size, that it felt quite strange at first; but she got used to it in a few minutes, and began talking to herself, as usual. `Come, there's half my plan done now! How puzzling all these changes are! I'm never sure what I'm going to be, from one minute to another!"




-- Chapter 5, Alice's Adventures in Wonderland
Well, just like Alice we have been through a change in location and changed form from weekly to monthly, but the challenge chapters remain familiar despite all these puzzling changes!
Here is how the new monthly challenge will work:
1st Sunday of the month: The new challenge will be posted with the link tool, and a few of the design team samples will be posted.
2nd Sunday: Additional design team samples will be posted.
3rd Sunday: The last of the design team samples will be posted.
Last Sunday of the month: A winner will be announced and some of your projects may be given an "honorable mention".
We are starting a week early with the February challenge because we didn't want to leave you with a gap, so we will spread the design team samples over four weeks and the winner will be announced on February 27th. You have a whole month to submit your creations, so we are hoping that a lot more of you will decide to play along!
To reflect all these puzzling changes, the challenge is to make something that features a dress form, OR to make something that changes in form!
While it is not required that your project include Alice in Wonderland, we do encourage it. If your project does feature Wonderland you will get two chances in the prize drawing instead of one!
And now for the big news -
STAMPOTIQUE ORIGINALS
is sponsoring our first challenge with a
$30 gift certificate
for one lucky winner, and their
design team
is going to play along! Be sure to visit their
Stampotique Designer's Challenge blog
where you can play every week! They are famous for artist Daniel Torrente's quirky characters, but they actually have many artists and quite a few different styles.
Jo Capper-Sandon
is my favorite with her wonderful mushrooms, and other lines include
Janet Klein's flower characters
(click next a few times to see them)
that remind me of the garden of living flowers! There is something to please everyone at Stampotique Originals!
Here is some inspiration for you:
Lynne Phelps of Savvy Sisters Studio decorated a papier mache dress form
using
Nikki Sivils
papers from the "
Something for Everyone
" collection. For all the details and many more photos of this dress form, please visit her blog!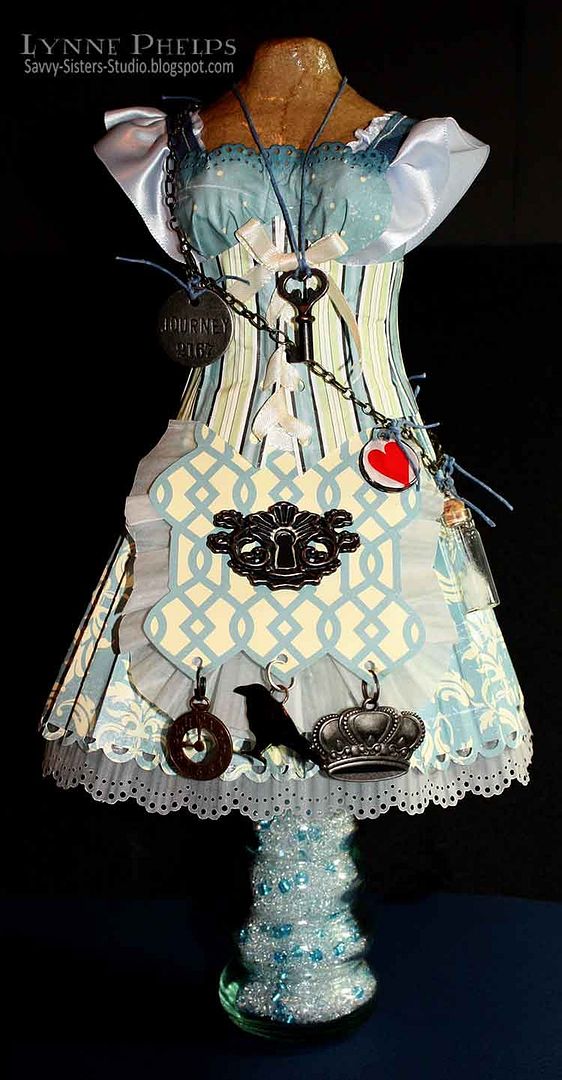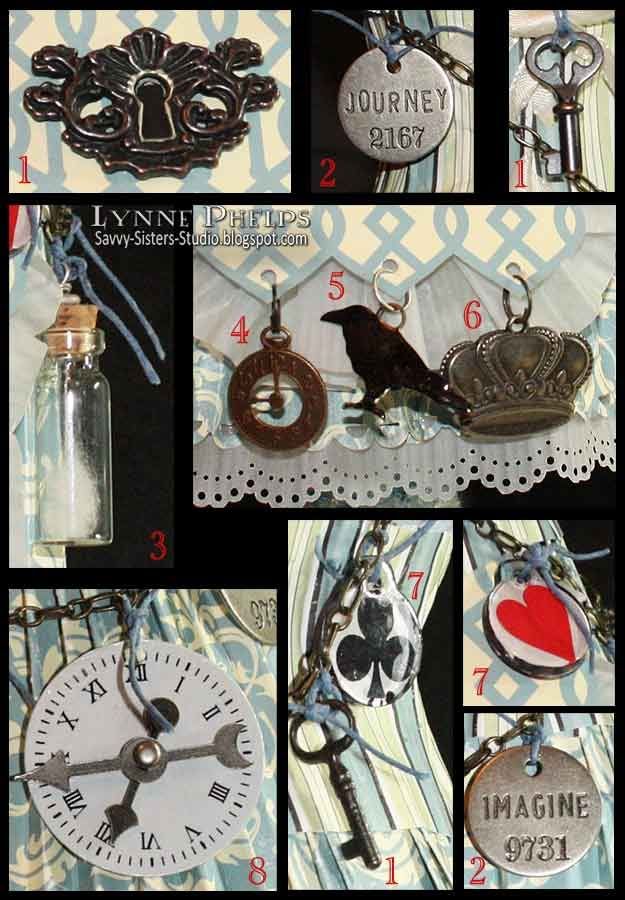 One of our Stampotique Guest Designers,
Kaz of Slightly Wonky Crafts,
used the
Karin stamp
to create a wacky Alice butterfly! Love those irridescent wings! Butterflies are certainly a great representation of a changed form, and the blue caterpillar transformed into a blue butterfly at the end of the movie.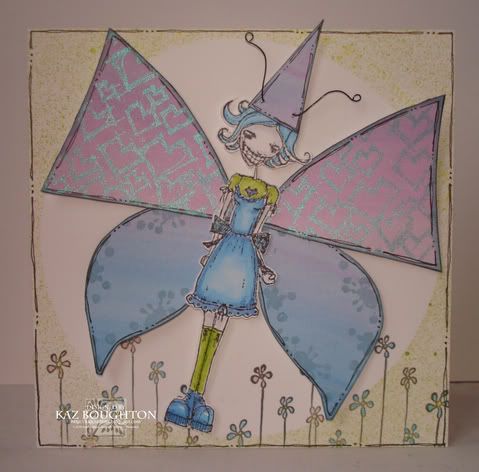 Our own Barbara Washington of Magic Delights created this fabulous shadowbox
(it is about 2 inches deep)
featuring Alice in Wonderland paper dolls! By their very nature paper dolls change form as you put different clothing layers on them, so the dolls ARE the dress forms! Very clever! For all the details and more photos, and
to leave her a comment about her wonderful piece,
please visit her blog
.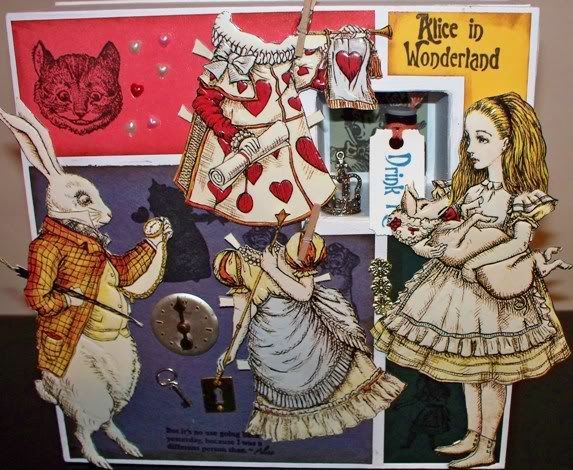 Another Stampotique Guest Designer,
Willy Anderson
, stretched the neck of the every popular
Gibi stamp
to create an Alice when she was too tall! I love the background which is made of layers of tissue tape and stamping, and the raffia bow is the perfect finishing touch.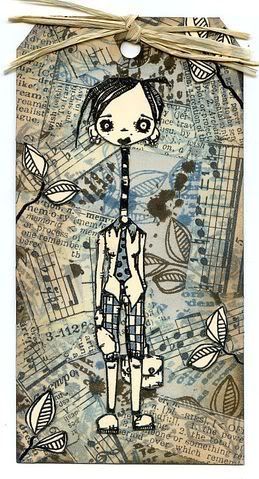 Enter your links below before 8 p.m. EST (GMT - 5) on Friday, February 25th.
A winner will be drawn and announced on Sunday, February 27th. Check back each Sunday between now and then for more inspiration!
Please leave a comment for the design team
before you go off to brainstorm about what you are going to make for this challenge!