I should have this post done by now, but I can't stop watching Weather Channel updates. I am safe and dry in Georgia, but saying prayers for those to my north as they suffer through Hurricane Irene. I lived in New Orleans for 25 years so they have all my empathy; most of these areas have never experienced a hurricane.
Before I announce the winner and honorable mentions, I have three more design team updates to share with you. Amazingly all three share the same color scheme of black, white and red!
Creative Inspirations design team member Beth Norman of Sunflowers and Dragonflies contributed this lovely black and white card with some great pops of red!
We always love it when our sponsor's team wants to come out and play!
Love all the layers and the way the sponging has highlighted the main image.
Creative Inspirations design team member
Holly of Glitter, Stamps, and Ink (Oh My!) contributed this lovely card with beautifully painted roses! It is amazing how versatile these paints are and I love the balance of black, white and red!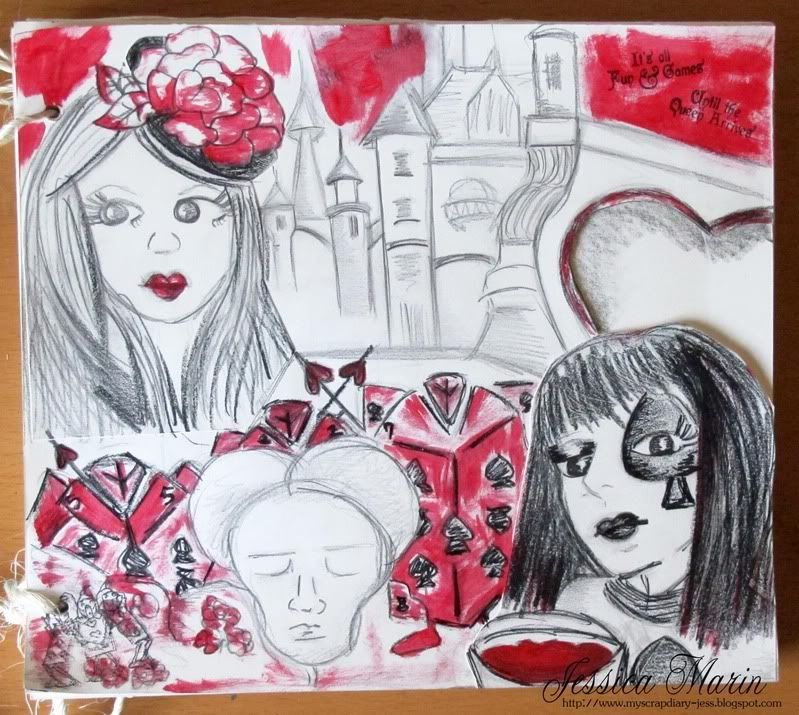 Our Altered Alice guest designer Jess Marin of My Scrap Diary has a hand-drawn art journal page, inspired by the scene in the castle garden in the Tim Burton movie. I love her interpretation of the 2, 5, and 7 cards that were doing the painting and the close-up face of the spade girl with her pot of paint! This was actually collaged together into a journal page from several different sketches. Red accents are, of course, garnet paint from Creative Inspirations!
Drum Roll Please!
And now for the moment you have all been waiting for! Of course the CI DT members were disqualified from the drawing, and all wonderland related entries received two chances at the draw.
The winner is Amy Bowerman of Plucking Daisies!
Amy, please reach out to me through the email link near the top of the left column, so I can get your contact information to our sponsor. I also hope you will display this blog badge with pride!
I have to tell you, I think Amy will put her five free pots of paint to good use, because just look what she's been painting! I think this is our largest project to date. It started out like this, with just the one drawer painted with sky and stars:
But due to our challenge, two more drawers have literally received the royal treatment, LOL! Look:
Most of the applied pieces are very sturdy as they are grungeboard. The coolest part? The bodies of the cards are on the bottom drawer, but the heads are on the middle drawer. So when you slide it open. . . yup, off with their heads!
Please go visit Amy at Plucking Daisies to see more closeup pictures of this fantastic project, it is really quite amazing!
Honorable Mentions
Thanks so much to all who entered. All the projects were wonderful!
Everything just works - color, composition, sentiment - on this great card by Denise of Lala's World!
I love the way she has left one flower partially unpainted, it really looks like our cartoon card is affecting the change!
Bonnie McLain of Love, Light, Peace submitted this tag that is just full of paint, including on the book pages that she cut up to form her rose and the ribbon! I also love it that she including the original illustration for our challenge quote!
Bonnie also submitted a second project; remember you can enter as many times as you like as long as each project is on a separate post! Love the crepe ruffle at the bottom and the real paint brush!
The shadowbox from Di's Place
is full of fun details, including roses painted red with Creative Inspirations paint.
Sylvia of Barnie's Baustelle submitted this altered wall hanging made from a recycled CD. After all the black, red and white of many submissions, the green and gold background to set off Alice and her paintbrush with the red roses was quite a relief! Love all the repeating circle motifs!
Those mentioned are now entitled to post this badge: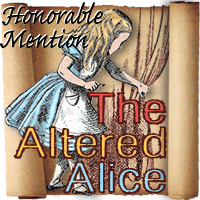 Thanks again to Creative Inspirations for sponsoring our challenge!