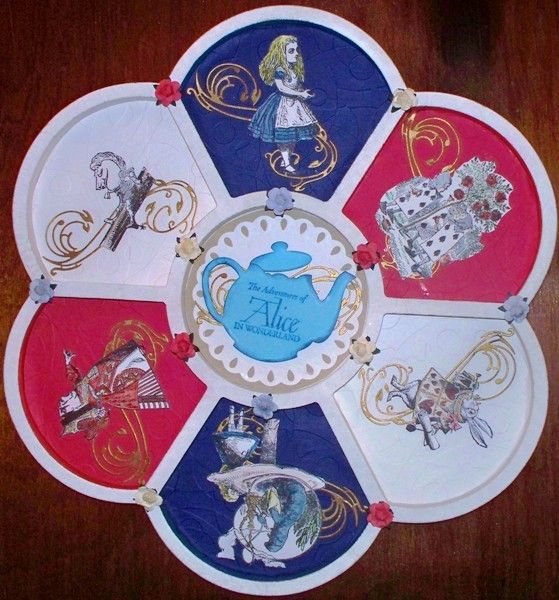 The White Queen gave a deep sigh, and laid her head on Alice's shoulder. `I am so sleepy?' she moaned.
`She's tired, poor thing!' said the Red Queen. `Smooth her hair -- lend her your nightcap -- and sing her a soothing lullaby.'
`I haven't got a nightcap with me,' said Alice, as she tried to obey the first direction: `and I don't know any soothing lullabies."
`I must do it myself, then,' said the Red Queen, and she began:


Hush-a-by lady, in Alice's lap! Till the feast's ready, we've time for a nap: When the feast's over, we'll go to the ball -- Red Queen, and White Queen, and Alice, and all!

-- Chapter 9, Through the Looking Glass and What Alice Found There
In the United States, we are celebrating our Independence Day this month, so we have a patriotic Red, White & Blue color challenge for you!
Of course here in Wonderland we know those colors are for the White Queen, the Red Queen, and Alice's blue dress!
Enter your red, white & blue project by July 27
for a chance to win a prize from our sponsor. All entries are welcome, but those that feature Wonderland will have two chances to win instead of one.
Simon Says Stamp is offering a $20 gift certificate to one randomly drawn winner!
Simon Says Stamp has over 100,000 items in stock. They have all of the latest releases from Magnolia, Whiff of Joy, Tim Holtz, Spellbinders, Copic and so much more! With great deals on shipping, it's a great time to shop with Simon Says Stamp.
NOTE:
Please use the link in the right column of this blog whenever you shop at Simon Says Stamp, even after this month, as the blog receives a small affiliate fee to help defray our costs, and you get the same great prices and shipping rates!
Your Weekly Inspiration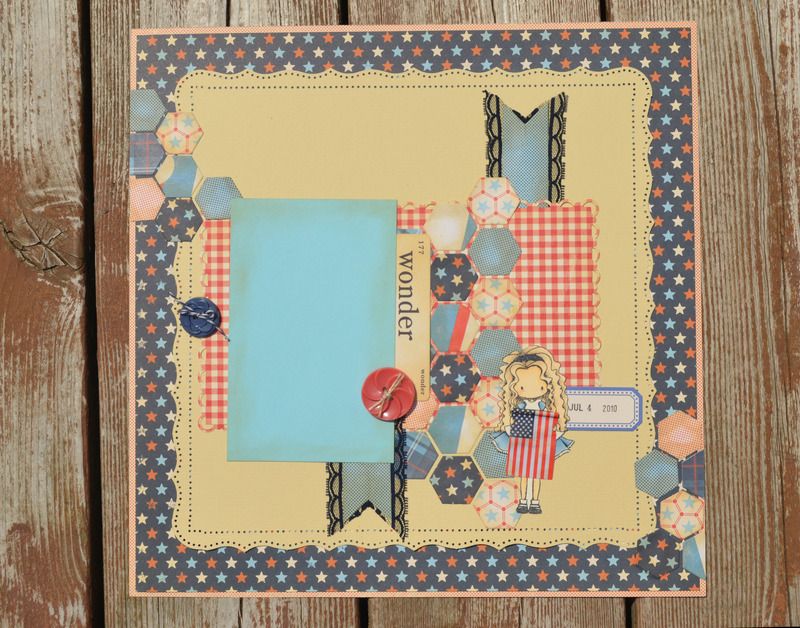 Erin Leveille of Stamp Till U Cramp created this wonderful Independence Day scrapbook layout
, just waiting for the perfect photo of her Sweet Pea! I love the way she has scattered the hexagons across the layout, such a great way to integrate a lot of different paper patterns and also to use up scraps!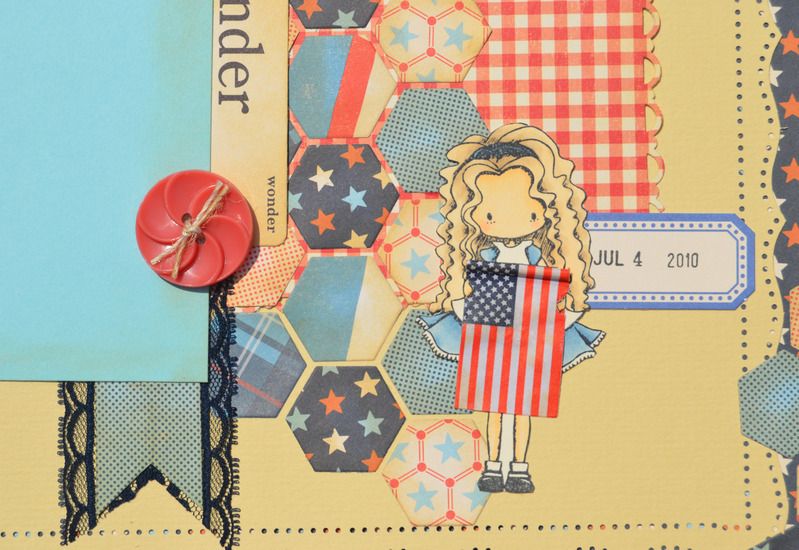 Erin used the
My Favortie Things Hexagons Die
and the
Stamping Bella Alice stamp
from Simon Says Stamp! The papers are
October Afternoon
, bright and summery! I love the way she altered the stamped image - Alice is holding a large teacup, so she made some cuts around the inside of her hands to tuck the flag in place. Please
visit Erin's blog to get the product links
and to leave her a comment!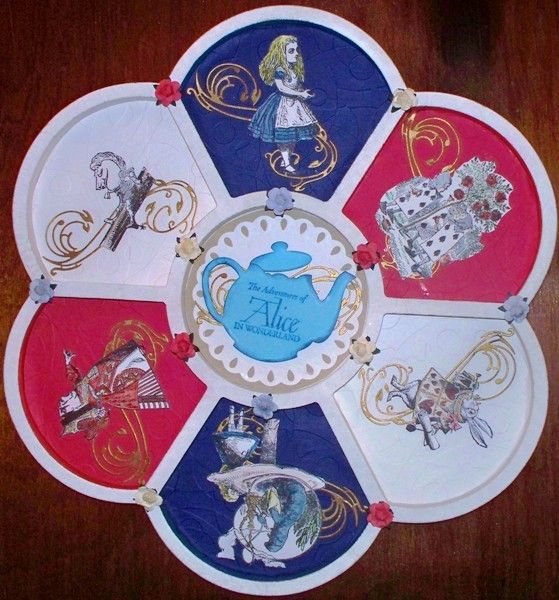 Barbara Washington of Magic Delights created a wonderful flower shaped shadowbox wall piece!
The images are from various
TJ Designs stamp sets
, including
A Walk Through Wonderland
,
Alice in Wonderland
, and
Down the Rabbit Hole
. Each petal has a corresponding stamped image to go with the color, with colored roses dividing the panes:
For RED we have the Queen of Hearts and painting the roses red.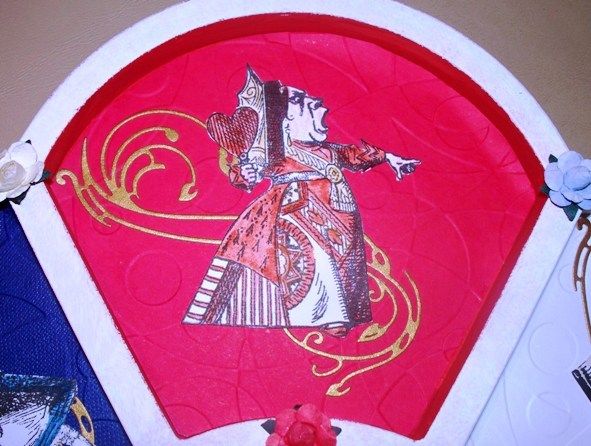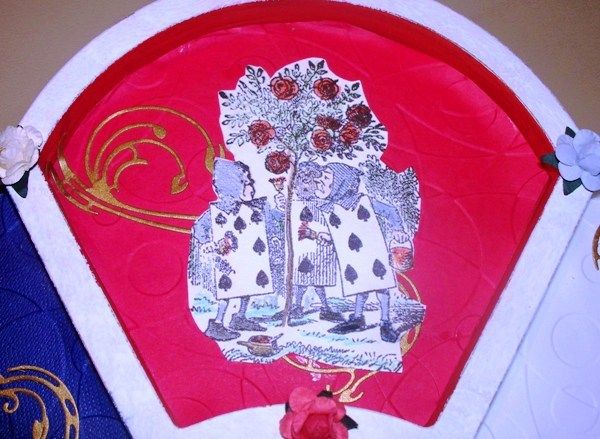 For WHITE we have the White Rabbit and the white knight chess piece.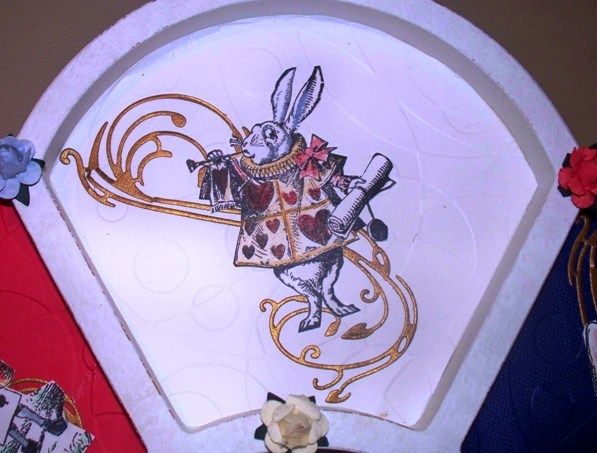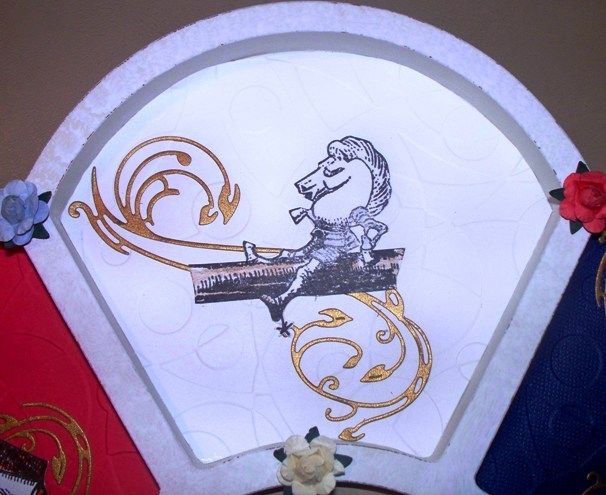 For BLUE we have Alice in her blue dress and the Blue Caterpillar.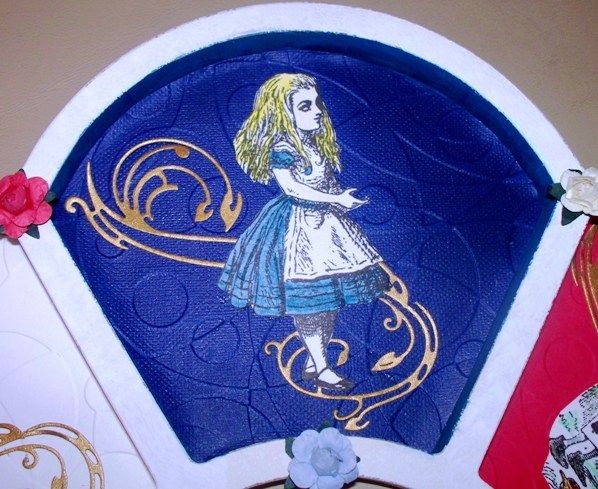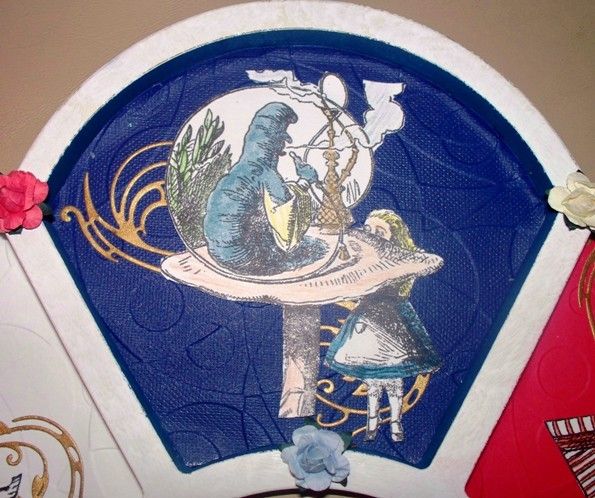 Please stop by Barbara's blog for all the details
and to leave a comment on this lovely flower!
Link your projects below by July 27, and PLEASE include your name or blog name in the TITLE.
This helps me enormously when it comes time to had out the honorable mentions!
(Note: if you are viewing this post in a reader or email, please click on the title of the post to go to the blog to see the entries or submit a project.)
Please leave a comment before you go, I love hearing from you!.