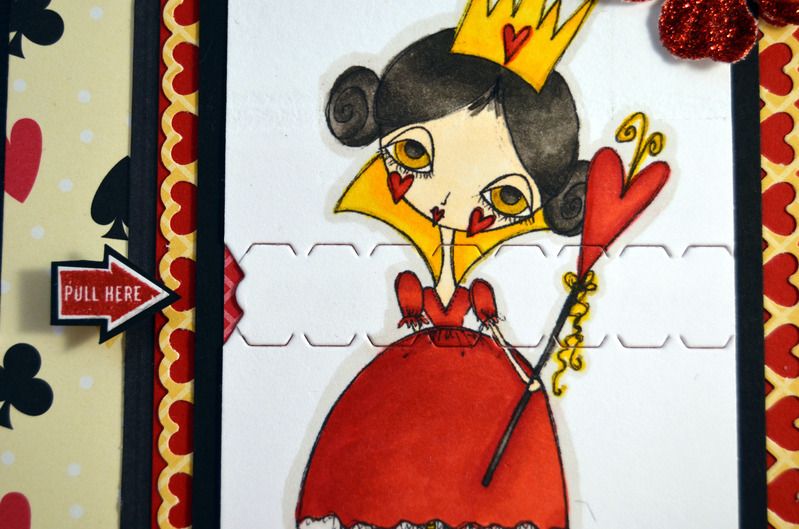 `Do you play croquet with the Queen to-day?'
`I should like it very much,' said Alice, `but I haven't been invited yet.
`You'll see me there,' said the Cat, and vanished.
Alice was not much surprised at this, she was getting so used to queer things happening. While she was looking at the place where it had been, it suddenly appeared again.
-- Chapter 6, Alice's Adventures in Wonderland
Just like the Cheshire Cat, we would like you to make a card where things appear and disappear!
It could be as simple as a tag in a pocket or something more interactive and fun, for example a
wiper card
, a
slider box
or a
slider card
or even a
double slider card
, a
telescoping card
, a
T-slide card
, a
swing (flip-flop) card
, or a
ViewMaster card
. These tutorials from Splitcoaststampers are for inspiration; your project does not need to be a card and the hidden element does not need to be a cat.
Enter by August 24 , and the winner will receive three digi stamps from our sponsor!
Our sponsor this month is Dilly Beans, featuring the whimsical art of Megan Suarez, famous for her charming big-eyed girls!
You can see the digi stamps and collage sheets on her blog,
Dilly Beans Stamps
. There is also a Dilly Beans design team
challenge blog
and an
Etsy shop
with Megan's artwork to inspire you. Dilly Beans offers four Alice-related digi stamps:
Alice in Wonderland
, the
Queen of Hearts
, the
Cheshire Cat
and some
whimsical mushrooms
; the design team will be featuring the first three.
Your Weekly Inspiration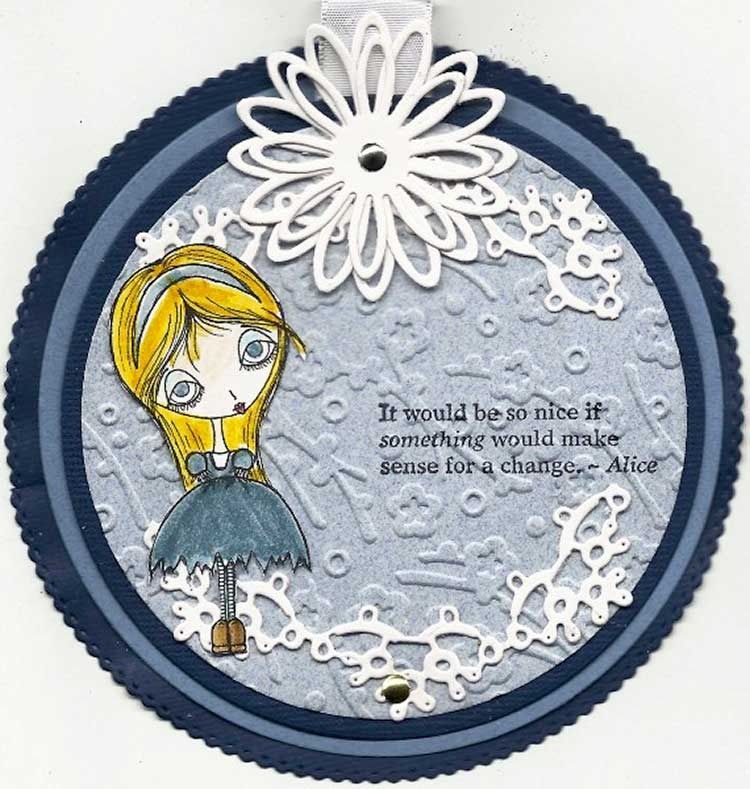 Barbara Washington of Magic Delights created a fun telescoping card for this challenge!
At first you only see Alice, but then when you swivel the top, more is revealed: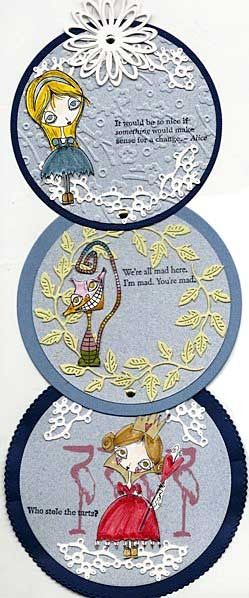 This is such a fun card! I love the quotes Barbara chose for each character, and the lacy and leafy die cuts are the perfect embellishment.
Please visit Magic Delights to leave a comment for Barbara!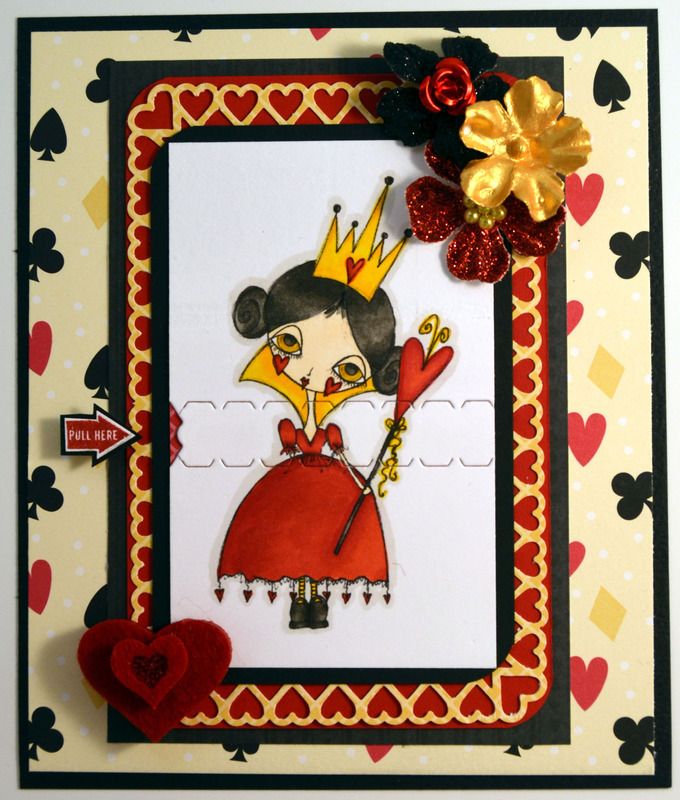 Erin Leveille of Stamp Til U Cramp created a zipper card!
I love the brilliant red and yellow, and that background paper is perfect!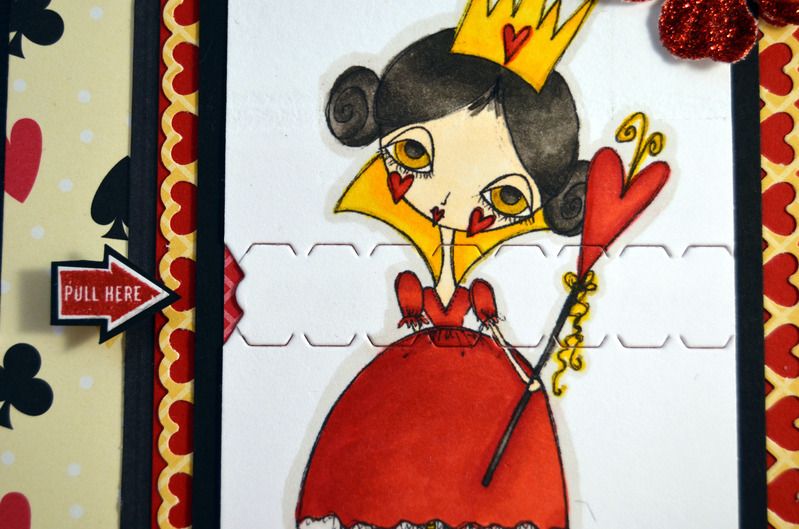 See the zipper? It is created with a special die. When you follow the "pull here" instructions. . .
The sentiment is revealed! Great job Erin, and such a clever take on this challenge!
Be sure to visit Erin's blog to leave a comment and get the details!
Barbara Washington of
Magic Delights
has gifted us with a second project - a slider card!
See that interesting tab at the top?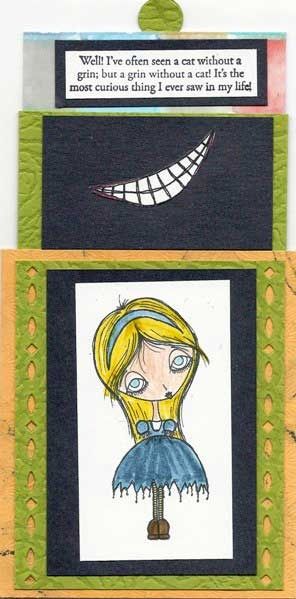 When you pull the tab, hidden layers are revealed with the Cheshire Cat's grin, and another fun quote!
Please visit Magic Delights to leave a comment for Barbara and to get the details!
Check the entries from our challenge participants for more fun examples to inspire you!
So join us for some interactive fun by entering your project by Friday, August 24
and
PLEASE include your name or blog name in the TITLE.
This helps me enormously when it comes time to had out the honorable mentions!
(Note: if you are viewing this post in a reader or email, please click on the title of the post to go to the blog to see the entries or submit a project.)
We will have more Dilly Beans inspiration projects for you next week, and please leave a comment before you go!