`In THAT direction,' the Cat said, waving its right paw round, `lives a Hatter: and in THAT direction,' waving the other paw, `lives a March Hare. Visit either you like: they're both mad.'
`But I don't want to go among mad people,' Alice remarked.
`Oh, you can't help that,' said the Cat: `we're all mad here. I'm mad. You're mad.'
`How do you know I'm mad?' said Alice.
`You must be,' said the Cat, `or you wouldn't have come here.'
-- Chapter 6, Alice's Adventures in Wonderland by Lewis Carroll
"We're all mad here" is the favorite Alice quote of artist Rick St. Dennis, so in January, anything goes!
Be mad! Get cute, get creepy, get crazy, because Rick St. Dennis has amazing digi stamps in all those styles, including many wonderful
AIW images
!
Submit your creations by Friday, January 25th for a chance to win three digital stamps from Rick St. Dennis.
All projects are welcome, but those featuring Wonderland will have two chances at the prize instead of one. Multiple entries are welcome, but to be counted as separate entries they must be on separate posts.
Designer of over 100 theatrical productions, Rick St Dennis (Donald McAfee) is also the author of 4 books on decorative painting and contributor to at least a dozen national magazines on crafts and art. St. Dennis has appeared on such TV shows as Home Matters with Susan Powell, Aileen's Crafts and others. He was Crafts editor for Country Folk Art Magazine and sold his artwork nationally through galleries and shows. For a complete bio of his amazing career, see
Rick's blog
!
Design Team Inspiration
Bonnie McLain of Love Light and Peace created a wonderful calendar, featuring Rick St. Dennis' wonderful illustrations plus her own "tangled" hand-drawn embellishments!
January
Feburary Queen of Hearts
March Hare!
April Fool - The Mad Hatter!
We will feature May through August next week, and September through December the week after! Aren't these calendar pages absolutely wonderful?
Be sure to visit Bonnie's blog to leave her a comment and let her know what you think!
Remember we said Rick had many styles and creepy was one of them?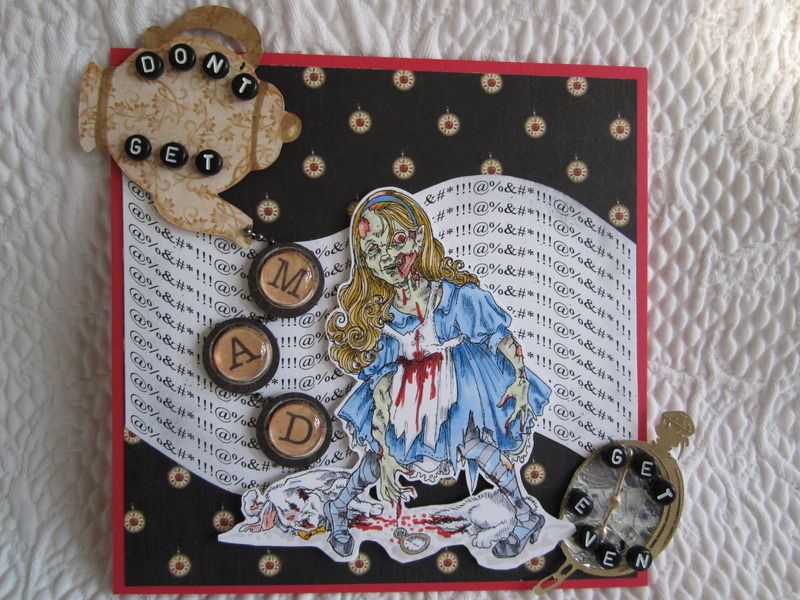 Donna Mundinger of Popsicle Toes created this neat "Don't get mad, get even" card featuring a zombie Alice!
I love the curved text in the background, what a neat touch.
Woops, it looks like this delightfully gruesome zombie Alice was pretty hard on the white rabbit! Donna's coloring is really wonderful! And I love the use of alphabet beads and typewriter key style letters:
Be sure to stop by Popsicle Toes to leave a comment for Donna about her creepy crazy card!
I really love this special fold card created by Barbara Washington of Magic Delights!
I am so impressed with the mechanics of this card. I have seen cards with one swing panel, but this amazing card has four! Barbara colored her panels with distress markers and they look just great!
Barbara had actually colored more panels, so the ones that did not make it into the flip-flop swing card wound up in this charming wall hanging!
Bravo Barbara; be sure to stop by Magic Delights to leave a comment for Barbara about her great projects this month!
Submit your creations by Friday, January 25th for a chance to win three digital stamps from Rick St. Dennis.
PLEASE include your name or blog name in the TITLE. This helps me enormously when it comes time to had out the honorable mentions!
(Note: if you are viewing this post in a reader or email, please click on the title of the post to go to the blog to see the entries or submit a project.)
Please leave a comment before you go!