Scroll down to see our fabulous Week 3 inspirations, including the work of the Artistic Outpost design team!
Our challenge this month is to create something that is predominantly blue and yellow, the colors associated with Alice!
Although it is not required that you use Wonderland in your project, those that do feature Wonderland will receive two chances at the drawing instead of one!
Time is running out!
Enter by this
Friday, April 22 at 8 p.m. Eastern Daylight Time (GMT -4:00)
and the winner will be posted sometime on Sunday, April 24.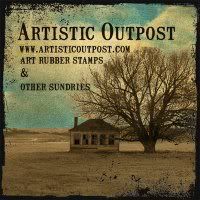 Our April sponsor is
Aritistic Outpost
, makers of fabulous rubber art stamp sets including the
Wonderland Collage set
that will be featured by our design team. The
Artistic Outpost design team
will be playing along as well!
One lucky winner will receive a $14 gift certificate to the

Artistic Outpost store

.
The Artistic Outpost's full line of vintage inspired art stamps are sold in unmounted themed collections.
All the unmounted sets are $14, so the winner will be able to select the set of their choice. They also offer several collections pre-cut and mounted on cling foam. Be sure to
visit their blog
for frequent udates, ideas, and inspiration from Artistic Outpost and their talented design team. I have used their stamps and the fine-line detail they are able to achieve in their rubber art stamps is truly outstanding!
Your Weekly Inspiration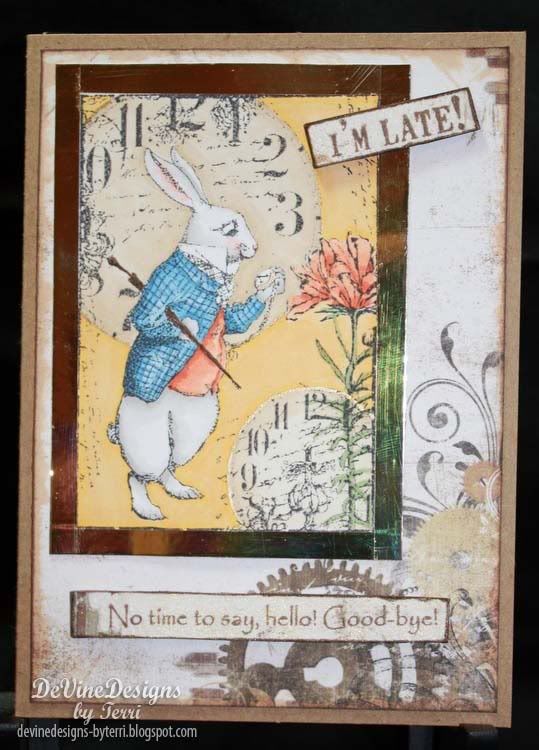 Terri DeVine of DeVine Designs by Terri created this beautiful belated birthday card using the rabbit image from Wonderland Collage and Bo Bunny papers from the Timepiece Collection.
This paper collection is a must-have for any Alice fan and it is at the top of my wish list! Terri has accented her blue and yellow with a pop of peach which is subtly echoed in the background paper; the corner flourishes and clockworks balance nicely with the main image which Terri framed with gold foil tape. Just lovely! Anyone who receives this belated birthday card is going to feel special despite its late arrival!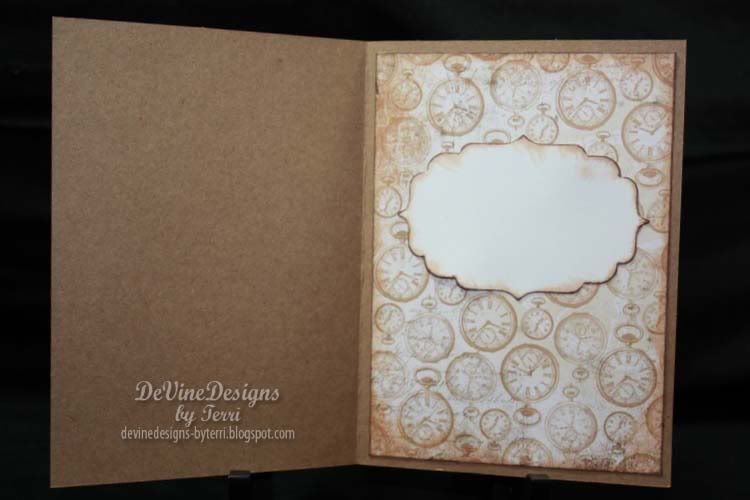 I also love the way she has carried her clock theme into the interior with more of the Bo Bunny Timepiece Collection and a sponged die cut waiting for a personalized message!
Please stop by Terri's blog to let her know what you think about her beautiful card!
Next, please welcome our Guest Designers from the Artistic Outpost design team!
Lynn Stevens of Trash to Treasure Art created this fabulous chunky ATC just in time for Easter
,
so Alice's White Rabbit may be watching the clock to be sure he gets all his eggs delivered in time!
I love the way she has added feet to the block, and that pompom cotton tail is such a great pop of texture! The blue is a soft aqua and so perfect for spring.
Looking down from the top, we see a great collection of 3D elements atop the ATB, literally crowned by the heart with the "I'm late" sentiment. Love the way she has added a chain and a spinner to the watch face.
Please
visit Lynn's blog
to leave her a comment on this wonderful 3D project!
Connie Paxman of Shades of Stamping has treated us with a variety of textures in her lovely card!
We have a bit of bling in the beaded blue flower, which is echoed by the sparkle in the center of the fuzzy corduroy flowers. Then we have the crocheted lace on top of paper that has an embossed and sponged look. I love the sponged background on the flourished center panel and the way some really lovely greens appeared where the yellow and blue blended, and all of that making the perfect backdrop for Alice and the White Queen!
Be sure to stop by and leave Connie a kind comment for this charming offering!
Stefanie Severin of Ingenious Inkling gives us a great contrast from Connie's blue with her blast of yellow!
She stamped on a wonderful Basic Grey yellow patterned paper and added some pops of blue in the waistcoat and jacket! The way she spread the legs of a decorative brad to form clock hands is really. . . ingenious!!!
Visit Stefanie's well-named blog
and let her know how much you like this yellow card!
I absolutely LOVE the way Suzanne Czosek of
Suzz's Stamping Spot
built up layers of images, paint and ink to create such an interesting background!
She has used the ledger background from Ephemeral Backgrounds, plus elements from the
Wonderland Collage
set includeing the clock face, I'm late! and Curioser and Curioser sentiments! Very, very cool! I also love the way she has used only the Alice from that stamp of her fixing the White Queen's hair! I am looking at that stamp in a whole new way!
Be sure to stop by Suzz's blog and let her know how much you liked this great card!
Lisa Somerville of Splendiferous Creations created this great layered card with some wonderful text patterned papers from Graphic 45's Hallowe'en in Wonderland set!
I think this would make a fantastic guy card, do you agree? She has used neutrals with her blue and yellow, and since those vintage tans are in the yellow family I am going to say she did a great job of stretching the boundaries on our blue and yellow color challenge!
Be sure to stop by Lisa's blog and leave her a comment!
Thanks again to our wonderful sponsor, Artistic Outpost, and their talented design team for playing along with our challenge!
Go to the bottom of the CHAPTER 3 - Week 1 post to enter your blue and yellow creation!
The clock is ticking but you are almost out of time; enter by
Friday, April 22 at 8 p.m. Eastern Daylight Time (GMT -4:00)
and the winner will be posted sometime on Sunday, April 24.
Please leave a comment here before you go, and let me know what you think about this week's inspiration!